Welcome to Mark & Nancy's wedding info site.
Thank you for letting us know that you'll be attending our wedding on September 30th! The planning is intensive, but we're enjoying it (Mark particularly recommends wedding cake tasting).
We've compiled some information that you may find helpful in planning travel, finding accommodations, and deciding how to spend extra time while in Chicago. We hope that this background info puts you at ease regarding the details of the weekend. If you have other information that you would like to see on this site, send us a link.
Wedding Info
Upon arrival at the Chicago Historical Society, guests will be asked to walk up the West Lobby stairs, through the atriums, and outside, onto Uihlein Plaza, where the ceremony will be held. Afterward, we request that you ascend the stairs and re-enter the East Lobby to allow the wedding party and families time outdoors for formal photographs.
In case of rain, the ceremony will be held indoors, in the North Atrium, which is modeled after the Court of Honor from the Columbian Exposition of 1893.
All public spaces and most public restrooms are wheelchair accessible, and a limited number of wheelchairs are available. Please ask at the front desk for assistance.
Ceremony & Reception Schedule
5:30 - Wedding Ceremony
6:00 - Cocktail Hour - Drinks and Hors d'Oeuvres
(Bride & groom, wedding party, and family will be busy with photos)
7:00 - Presentation of Bride & Groom, followed by Toasts
7:30 - Dinner Buffet Begins (Food will be served throughout the event)
8:00 - Cake Cutting
8:15 - First Dance, Bride & Father Dance, Groom & Mother Dance
8:30 - Dancing & General Merriment Begins
9:00 - Wedding Bouquet "Throw"
11:45 - Event ends
Children
Children are very welcome. For the sake of our planning, please let us know how many will be attending.
Historical Society Policies
The wedding/reception space is also a museum space. We welcome guests to enjoy the diorama room, portrait gallery, costume alcove, stained glass window display, and numerous other exhibits, including memorabilia from the Columbian Exposition of 1893. It is important to keep in mind that there are several policies in place to help ensure the safety of the galleries and artifacts.
- The Chicago Historical Society does not permit the throwing of rice, bird seed, or similar materials (such as rubber chickens, rotten tomatoes, and octopi). The use of lighted candles, live evergreens, confetti, and balloons is also not permitted.
- The Society is a non-smoking building. No one may smoke inside the museum.
How to Get There
CHS is easy to reach by public transportation: CTA buses #11, #22, #36, #72, #151, and #156 stop nearby. You can also try the Free Lincoln Park Trolley.
From Lake Shore Drive, take the North Ave exit onto LaSalle Drive. From the Kennedy Expressway (I-90/94), exit onto North Ave and travel east approximately two miles. CHS is just north of North Avenue on Clark Street.
Parking
Parking is available in the lot north of the Historical Society, accessible from Stockton Drive (see map below). Pick up a parking slip as you enter the lot and be sure to bring it in with you -- a Chicago Historical Society employee will be present in the main lobby to give you a complimentary parking pass. However, when deciding whether or not to drive, keep in mind that there will be an open bar at the wedding. Taxis in Chicago are reasonably priced and the public transportation is excellent.
Handicapped parking is available upon request.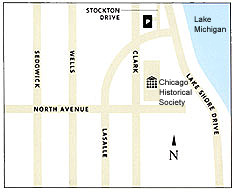 Coat Check
There will be a complimentary coat check. Turn to the right as you enter the West Lobby from Clark St and a CHS employee will assist you.
Open House Info
On Monday, October 1, from 10:00 AM to noon, the bride and groom will host an informal Open House at the Caliterra Lounge of the Wyndham Hotel, 633 North St Clair. Please stop by to chat and enjoy coffee, tea, and pastries.
Gift Registry
The bride and the groom are registered at Williams Sonoma, Bed Bath & Beyond, and Target, as well as WeddingChannel.com.